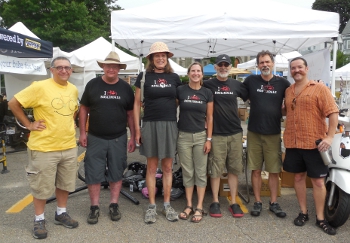 RozzieBikes at Bike Day at the July 19, 2014 Roslindale Farmers Market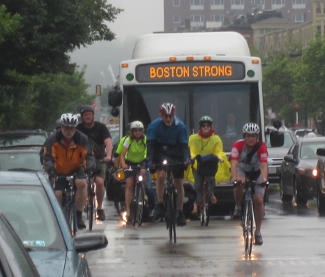 RozzieBikes biking to Bike Friday on June 28, 2013, two months after the Marathon Bombing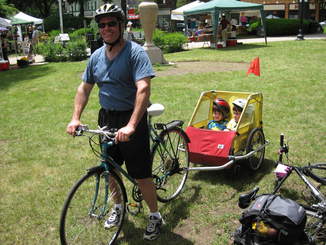 J.T., Elijah, and Jonah Lenoch in Adams Park before our 2009 Family Ride

http://www.rozziebikes.org
RozzieBikes is a neighborhood organization devoted to making the Roslindale neighborhood of Boston a better place to bike. We're interested in street improvements, bike parking, bike routes, bike lanes, and mixed-use paths.
A network of bicycle routes, lanes, and paths is growing which can connect cyclists and their destinations to make bicycling a more desirable transportation option. An advantage of the bicycle is that the road system can be used to bridge uncompleted portions of the network, so there is no need to wait until the system is "complete". The network grazes the edges of Roslindale as the Emerald Necklace, the Southwest Corridor, and Stony Brook Reservation. We need to connect the neighborhood!
Keep Informed!
Join our RozzieBikes email list on Google Groups
Visit us on Facebook
Saturday, June 3, 2017, 9:00 - 2:00 pm: Green Mobility Day at the Roslindale Farmers Market
To celebrate widespread efforts by the City of Boston to improve walking, cycling and mass transit-and in particular the proposed dedicated bus lane on Washington St between Forest Hills and Roslindale Village-RozzieBikes with the Roslindale Village Main Streets Farmers Market are inviting Mayor Walsh, City Council President Michelle Wu, and City Councilor Tim McCarthy to the opening day of the Roslindale Farmers' Market.
Starting at 10:30am, a special ceremony championing green mobility will be held with Mayor Walsh, and a noon-time bike ride will feature hidden gems in Roslindale. Join hundreds of your neighbors and friends to show your support for safe walking and bicycling and public transportation. The block of Poplar St. adjoining Adams Park will be closed to motor traffic to expand the market and accommodate local bike shops and groups.
Saturday, June 3, 2017, Noon - 2:00 pm: Roslindale Neighborhood Bike Ride
Join Rozzie Bikes on a ride through the Roslindale neighborhood of Boston, with a bit of Mattapan and Hyde Park, too, on our part of this year's Neighborhood Ride Series. We'll bike through quiet neighborhoods and on busier streets which mostly have bike lanes. Travelling mostly in the Stony Brook Valley, we'll visit a few natural areas on the way: Boston Nature Center, Crane Ledge, and Sherrin Woods. The ride is under 7 miles long and fairly flat.
Heavy rain postpones the ride. Helmets are required.