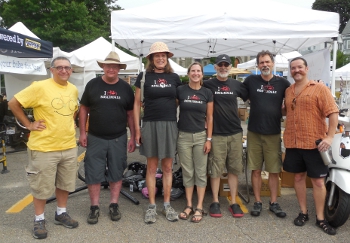 RozzieBikes at Bike Day at the July 19, 2014 Roslindale Farmers Market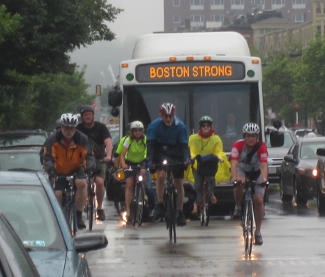 RozzieBikes biking to Bike Friday on June 28, 2013, two months after the Marathon Bombing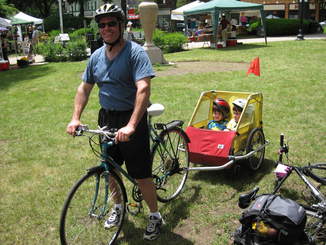 J.T., Elijah, and Jonah Lenoch in Adams Park before our 2009 Family Ride

http://www.rozziebikes.org
RozzieBikes is a neighborhood organization devoted to making the Roslindale neighborhood of Boston a better place to bike. We're interested in street improvements, bike parking, bike routes, bike lanes, and mixed-use paths.
A network of bicycle routes, lanes, and paths is growing which can connect cyclists and their destinations to make bicycling a more desirable transportation option. An advantage of the bicycle is that the road system can be used to bridge uncompleted portions of the network, so there is no need to wait until the system is "complete". The network grazes the edges of Roslindale as the Emerald Necklace, the Southwest Corridor, and Stony Brook Reservation. We need to connect the neighborhood!
Keep Informed!
Join our RozzieBikes email list on Google Groups
Visit us on Facebook Saturday, June 13, 2015, 8:30am - 1:30 pm: Bike Day at the Roslindale Farmers Market
We'll be there talking about and fixing bikes with our local bike shop, Busted Knuckle, and the Boston Cyclists Union. We will have "I Bike Roslindale" t-shirts!

Sunday, June 14, 2015, 7:30am: Exploration of Boston's 'Hidden' Parkway by bicycle
(raindate Sunday June 28)
Meeting time is for 8am departure; we will return by 10am
Meet at the Walgreen's end of the Stop-n-Shop plaza on American Legion Highway
This 2.5 mile corridor that borders Roslindale and Mattapan has opportunities for large and small green recreational projects, including bike & walking paths, parks, tot-lots, picnic areas, and protected urban wild. However, this area is extremely vulnerable to destruction from both pending and proposed development. Once these pockets of green are gone, they are gone forever. Did you know that the 4500' open Canterbury Brook that winds on either side of American Legion Highway is one of only five open brooks in Boston?

A 2-hour, 5-mile exploration by bicycle will introduce this corridor of opportunity, and you will get to share in the vision of residents and neighbors who are passionately working to preserve and enhance a vibrant community and fragile greenscape. Periodic stops will provide ample opportunity for discussion and engagement. We will finish in time for you to enjoy brunch or Sunday services, and the rest of your weekend.

Bring your bicycle, helmet, water bottle and sunscreen, and your curiosity! The ride will be casual with multiple stops and no significant hills, and so is appropriate for riders of all abilities. We look forward to riding and sharing with you!

Email Laura Smeaton with questions.

Sunday, June 14, 3:00 pm: Girlz Roll Meet at the Mattapan MBTA trolley station for a women-only, leisurely ride to Pope John II Park and back along the Neponset Trail, switching to streets where the trail is under construction.
Sponsored by Mattapan Food and Fitness, with the understanding that women of any age can be Girlz, but not all Girlz are yet women.

Email Jessica Mink with questions.