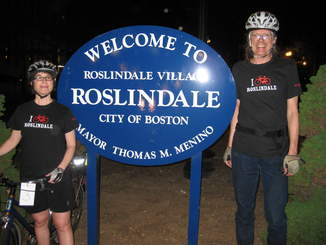 Susan Brady and Doug Mink model RozzieBikes' new t-shirts in this photo by Laura Smeaton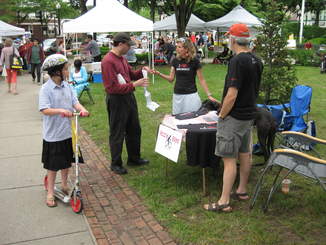 Laura Smeaton and George Ulrich recruiting cyclists at the second Roslindale Farmers Market of 2009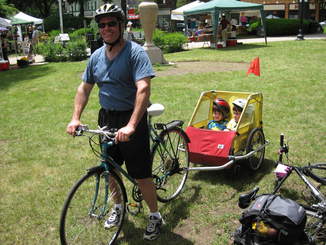 J.T., Elijah, and Jonah Lenoch in Adams Park before our 2009 Family Ride

http://www.rozziebikes.org
RozzieBikes is a neighborhood organization devoted to making the Roslindale neighborhood of Boston a better place to bike. We're interested in street improvements, bike parking, bike routes, bike lanes, and mixed-use paths.
A network of bicycle routes, lanes, and paths is growing which can connect cyclists and their destinations to make bicycling a more desirable transportation option. An advantage of the bicycle is that the road system can be used to bridge uncompleted portions of the network, so there is no need to wait until the system is "complete". The network grazes the edges of Roslindale as the Emerald Necklace, the Southwest Corridor, and Stony Brook Reservation. We need to connect the neighborhood!
Keep Informed!
Join our RozzieBikes email list on Google Groups
Visit us on Facebook Following Boston's Mysterious Stony Brook [photos]
Saturday, November 9, 2013,
9:30 am in Adams Park in Roslindale Square
10:00 am at the gated entrance to Bellevue Hill on Bellevue Hill Rd.
Starting in West Roxbury, this stream goes through the Hyde Park, Roslindale, Jamaica Plain, Mission Hill, Roxbury, and Fenway neighborhoods of Boston from the city's highest point, Bellevue Hill, to the Charles River. But it's almost all underground. We'll see how close we can come to its route, and return following the Muddy River and Bussey Brook.